Synthetic contact lenses have existed for 70 years. Our institute has existed foralmost 40 years.
In 1978 Uwe and Sylvia Wahrendorf founded the Contact Lens Institute Wahrendorf. What was initially a small, family company with its own contact lens manufactory has since then become an institute well known far beyond the borders of Berlin. As was the case for most goods, the supply situation for contact lenses in GDR was incomparable to what it is today. There were hardly any manufacturers, hardly any tools and no sales infrastructure. That is why contact lenses were made in only a few very small companies.
Until 1990 three days a week were reserved for lens fittings, all other days, including weekends were used for manufacturing lenses in the in-house workshop.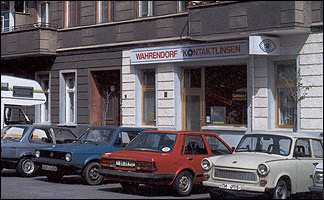 Side view of the old shop, 1989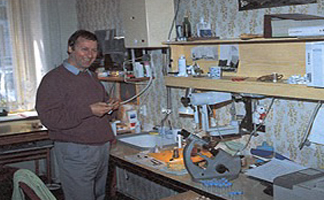 Uwe Wahrendorf inside the old workshop, 1989
Back then technical possibilities were extremely limited. It was only possible to make dimensionally stable contact lenses from PMMA (acrylic glass) using converted watchmaker lathes. Soft lenses were not made. Only very few people had access to soft lenses from selected clinics. The items were imported from other socialist states.
Custom-made contact lenses
Manufacturing custom-made lenses only became possible after the political change in 1989. Given our long experience with making our own lenses, we demand the best quality for our lenses and only work with the best manufacturers.
In 1992 the institute moved from Richard-Sorge-Straße to Petersburger Straße and established its presence on the high street. Nowadays we do lens fittings five days a week. In order to individually modify and repair lenses, we still keep a small laboratory.
Managed by Irina and Corinna
Since 2011 Corinna and Irina Wahrendorf have been running the family company.